Our work in participatory governance
Participatory Budgeting
The Youth Cafe seeks to help Kenyan county governments crowd source resource allocation and enhance positive change through youth involvement to improve their capacity to deliver cost-effective, qualitative public services.
Participatory Budgeting is both a democratic policy making process and a more efficient budgetary and oversight mechanism. This project links democracy, fiscal/budget management, and new technologies through online group decision making software. It enables young people to comment, rank, and vote on local government projects based on weighted units, as distributed by expenditures, revenue, and surpluses/deficits.
The project's benefits are reflected in increased delivery of greater budgetary investments to priorities of the youth demographic, increased efficiency in service delivery, and promotion of accountability in crucial sectors such as health, education, and environment.
Participatory Budgeting: Step by step
STEP 1.
HOW TO PARTICIPATE.
- You vote on the different options
- You share your opinions
- You create your own budget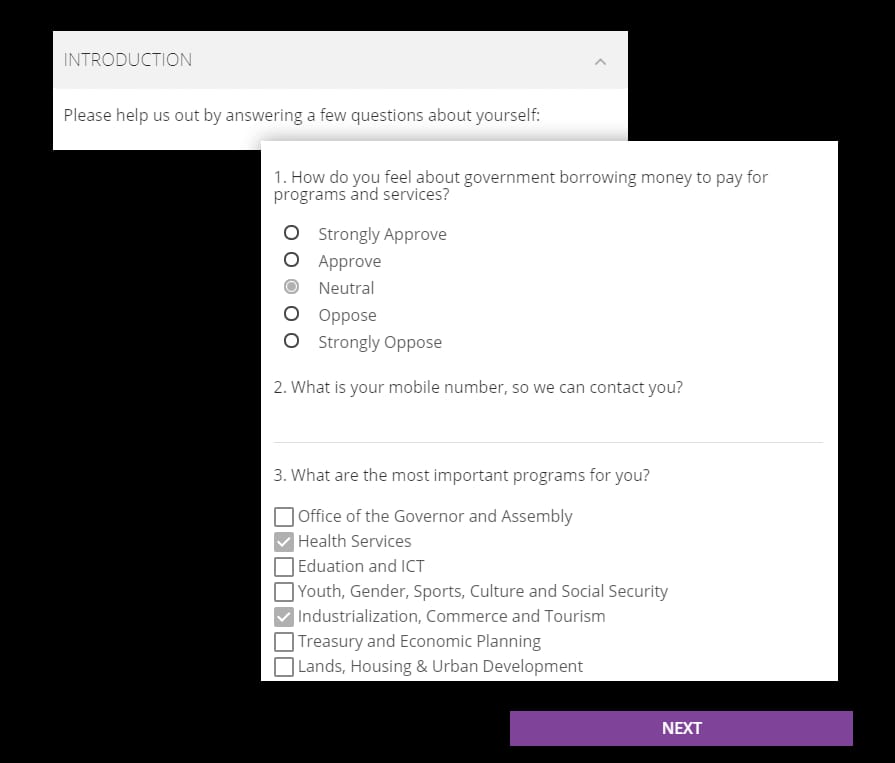 STEP 2.
INTRODUCTION.
- Here you help us by answering some questions about yourself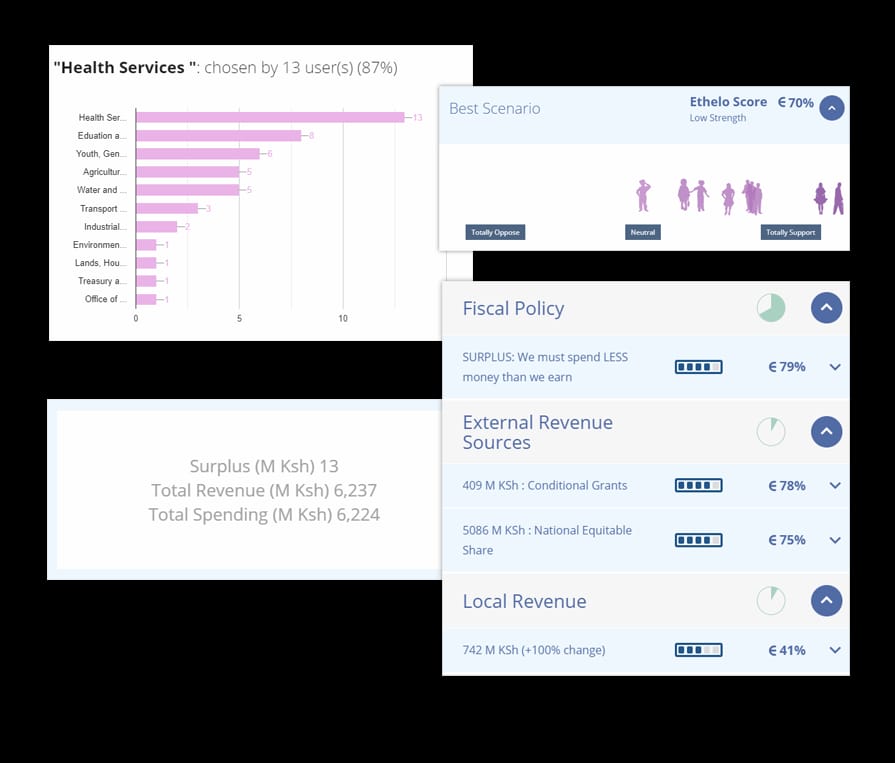 STEP 3.
GRAPHICAL PRESENTATION OF SERVICES.
- Here all the data gathered from users is gathered and represented graphically representing the services selected by the users from the most selected services.
STEP 4.
SUMMARY OF EXPENDITURE BY PROGRAMMES.
Here all the summary of expenditures are listed.
Baringo County's budget for financial year 2017/18 is Kshs.6.64 billion, comprising of 3.98 billion and 2.66 billion allocation for recurrent and development expenditure respectively.
To spend this this money, the County is required by both the Constitution of Kenya 2010 and the Public Finance Management Act, 2012 to consult the citizens of the county to propose ways of using the budget.
The Youth Cafe will make sure participants can express their support for different spending levels, but also for the assumptions that drive the model. Based on input from young people, The Youth Cafe searches all the possible scenarios to find a profitable budget based on broadly supported assumptions and preferences.

2. Public participation in legislative agenda
Ongoing consultation: Industrial Training Bill, Our
The Youth Cafe in partnership with Ethelo Democracy seeks to help the citizens participate in Industrial Training (amendment) Act, 2019 Bill. The bill is aimed at enabling the National Industrial Training Authority to collect employee training fees from employers.
The problem is that currently, the National Industrial Training Authority doesn't have a proper system for collecting these training fees
Specifically, the government currently cannot identify which employers should pay the training fees. Moreover, the fees are too small, there is no deadline to pay, and no serious consequences if employers refuse to pay.
Employee training is very important for Kenya, because it supports our social, economic and political development.
This Bill will make laws to: [ see Original Bill ]
Authorize the Kenya Revenue Authority to collect training fees.
Give employers deadlines for paying the fees.
Authorize tax collection powers to collect the fees.
Distribute the fees collected.
Participatory Industrial Bill: Step by step
Step 1.
Here you vote and comment on the different parts of the new act.
Step 2.
Here you comment on
- If the tax collector should collect the training fees.
- If the powers of tax collection should be used.
- If the rules of tax collection should be used.
Step 3.
Here you comment on
- If training fee should be due on 5th of each month.
- If Fees can not be deducted.
- If 100 Ksh should be charged every month per employee.
Step 4.
Here you comment on
- How the payout and funds should be distributed.
Step 5.
Here you fill a small survey for us to know much about our participants.
Step 6.
Here Ethelo analyses all the data and represents them graphically.
Step 7.
Here the Survey Results are displayed according to counties.
Step 8.
This is the final step where all the voting results are displayed.
The Youth Cafe will make sure participants can express their support for different bills, based on input from young people. If you wish to participate in the Industrial Bill public consultation, please click on the button bellow.
How can open contracting reforms and increased availability of data be used to increase access to procurement market opportunities for businesses owned by woman, youth, people living with Disabilities? The project will collaboratively work with a dedicated network of partners and procuring agencies to increase access to market opportunities by woman, youth, people living with disabilities, minorities and other underprivileged groups who want to do business with the government.

The Kenyan government initiated Access to Government Procurement Opportunities (AGPO) Program in 2013. AGPO is an affirmative action initiative intended to empower women, youth and persons with a disability by setting aside 30 per cent of all procurement in Kenya for this group of persons, without competition from established firms.
However, a recent study shows that of all tender tender awards, only 7.7 per cent of the prescribed 30 per cent were awarded to AGPO Program registered firms. Additional significant challenges inhibit the realization of the AGPO goals. Historically, Kenya has struggled to tackle corruption and inefficiency in its public procurement sector because key players often don't know the rules or ignore them.
Our open contracting reforms
The Youth Cafe and in conjuction with it partners use open contracting norms to address the lack of understanding of the bidding process among the target group, inaccessible and unreliable information on AGPO Program contracts, the concentration of AGPO contract bidders in Nairobi region, to the disadvantage of qualified candidates out of Nairobi, and widespread conflicts of interest between public officials and AGPO firm owners is rife leading to exploitation of youth and persons with disabilities to win tenders.